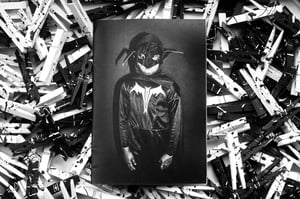 £

4.50 - On Sale
CLICK HERE FOR A FURTHER PREVIEW
Following the sell out within 48 hours of ONE GIANT ARM Zine Issue 4 'White and Black' and the response from people who missed out, we've re-printed a second edition with a limited run of 55 numbered copies (launched at Diffusion Festival of Photography: Publishing Fair).
In OGA ZINE ISSUE 4 'WHITE AND BLACK' we pay tribute to photography as it was in the beginning and will, to some degree, always be.
This group zine features a diverse range of emerging and established contemporary photographers that are producing new and unique Black and White photography.
Featuring: Matt Martin, Cathe De Rore, Steve Messer, Daniel Mulheran, Francesco Merlini, Renaud Coilliot, Ricardo Lozano, Will Spooner, Cecile Maycec, Thomas Kimmerlin, Tommy Sussex, Matt Sanchez, Dan Porter, Maki, Oliver Dignal, Erica Lou, Boris Hoppek
Oz Hope, Ben Drusinsky, Franck Doussott, Mathew Smith, Joe Williams, Krzysztof Chaos Olechnowicz, Chris Kennerley, Trip Ulvila, Fabrizio Musu, Micheal Ast, Jake Kenny
Dominique Le grand and Laura Silleras Salcedo.
Foreword by Scot Sothern.
(48-page A5 White and Black Photo Zine, Digitally printed, 140gsm uncoated off white Matt recycled paper with no laminate cover, Inner pages printed white and black throughout on 115gsm uncoated off white Matt recycled paper. Staple bound.)
The 2nd Edition is Limited to 55 numbered copies.